Here are some of the climate related resources that governments, organisations and companies have commissioned from us. They make the cause of climate change visible because it is hard to act on a problem whose cause is invisible, especially if the cause is a gas, and it is measured in units of mass! We make carbon dioxide 'real' - translating rates of emission into physically meaningful units of time and space. All the material is available for sharing with others and showing in presentations under a Creative Commons Licence. Feel free to download and do give us feedback on how they help.
GLOBAL
In this section you will find a range of our projects highlighting global emissions and the sources of those emissions over the years.
The world is waking up to the climate crisis. Children are protesting and Extinction Rebellion has gone global. But many people are still unaware of the carbon emissions associated with everyday activities. That's why we have teamed up with innovative multi-media theatre company Forkbeard Fantasy to see if humour could help.
State-owned and multinational businesses have continued to expand their fossil fuel extraction operations since 1965 despite being aware of the industry's devastating impact on the planet. In this 20 second film we show what 480bn tonnes of carbon dioxide equivalent (GtCO₂e) looks like.
A film that shows in real time the current rate of global CO2 production - a million tons every thirteen minutes - as well as the reductions needed by 2030 and 2050 to meet the Paris climate target. The film was shown at the 44th G7 summit in Charlevoix, Quebec, Canada in June 2018.
COUNTRIES & CITIES
Individual countries and cities have often shown leadership by monitoring and publishing their own emissions, or committing to reduction targets that at the time seem challenging. This section includes our first 'high production' CGI animation which shows New York City's carbon footprint. The film went viral and has now been seen on YouTube over 380,000 times.
Ireland's Environmental Protection Agency (EPA) wanted simple visuals to show the country's carbon footprint. We created a short animation showing the daily emissions in Dublin bay to inform and engage a wide range of audiences, from policymakers to the general public.
This simple animation was created to highlight the UK Government's 2050 carbon reduction target of 80%. By using Piccadilly Circus and shifting the scale to that of a single person we were able to create a stir on social media about a 70 page Report.
Our 2012 award-winning three minute animated film shows the carbon emissions of New York City. Featured by over 100 media organisations including Scientific American, Mashable, New Scientist and Daily Mail Online the film does not even mention climate change. Yet it's been viewed over 380,000 times on YouTube.
The carbon dioxide emissions of the USA in 2014 - 6,870 million metric tons - makes up about 14% of global emissions. This image set shows that amount as a daily pile of spheres / bubbles in Washington DC, cascading over The White House.
A selection of projects that we worked on for COP21, the Paris Climate Change meeting. We created short animations to show carbon reduction targets in a selection of global cities, and much more…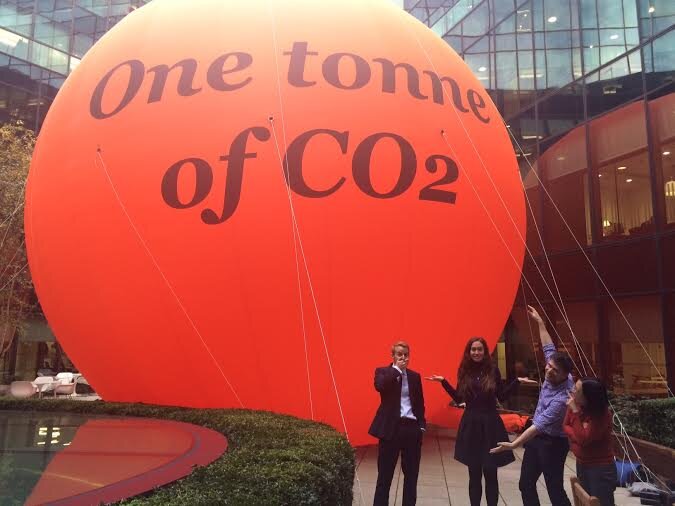 Staff at PwC UK have come in to work to see that a giant 10 metre diameter CO2 'bubble' has appeared in the atrium of their London head office. In addition a complimentary 90 second film shows how the bubble arrived in this unusual setting.
ORGANISATIONS, PRODUCTS & SERVICES
Society is becoming increasingly aware of the climate crisis. So smart organisations want to highlight low or zero-carbon activities, products and services. We can help make these stories 'come alive'.
How do you demonstrate a 90% carbon reduction? We provided a short animation to show this impressive 90% achievement at the European manufacturing facility of Interface, the carpet tile manufacturer and pioneer in corporate sustainability.
How do you visualise carbon offsetting for a consumer product? This animation was created to demonstrate that although the amount of CO2 offset for a single one litre pack of engine oil might be small, it adds up. Particularly when seen from the point of view of a whole country, or indeed world sales.
NATURE
The biggest stores of carbon in the natural world are in forests, soils and oceans. Slowing the climate crisis will require a better understanding of natural carbon sequestration. These projects highlight some of the work we have done to help this communication challenge.
Dartmoor is a wild peatland landscape in Devon, England, know for its wild horses and sheep that wander freely. This animated slideshow illustrates the amount of carbon that is 'sequestered' by the peat and shows the importance of these landscapes as natural carbon stores.
We think of estuaries primarily in terms of nature and wildlife. But estuaries also provide important ecosystem services, for instance the saltmarsh sequesters and stores carbon dioxide from the atmosphere. Communicating this to the public is a challenge, but we wanted to have a go…
How much carbon is stored in a tree? How does that translate into cut timber and wood products? And how much carbon can be 'banked' by using timber for building houses? This communication project showed the carbon benefits of using wood and timber in the UK construction sector.
The first animation film from Carbon Visuals shows the emissions, sequestration & stored carbon on ten upland farms in the Peak District National Park, UK. The core message is that these farms are performing an important role as guardians of a huge carbon store that is best kept in soils and vegetation.